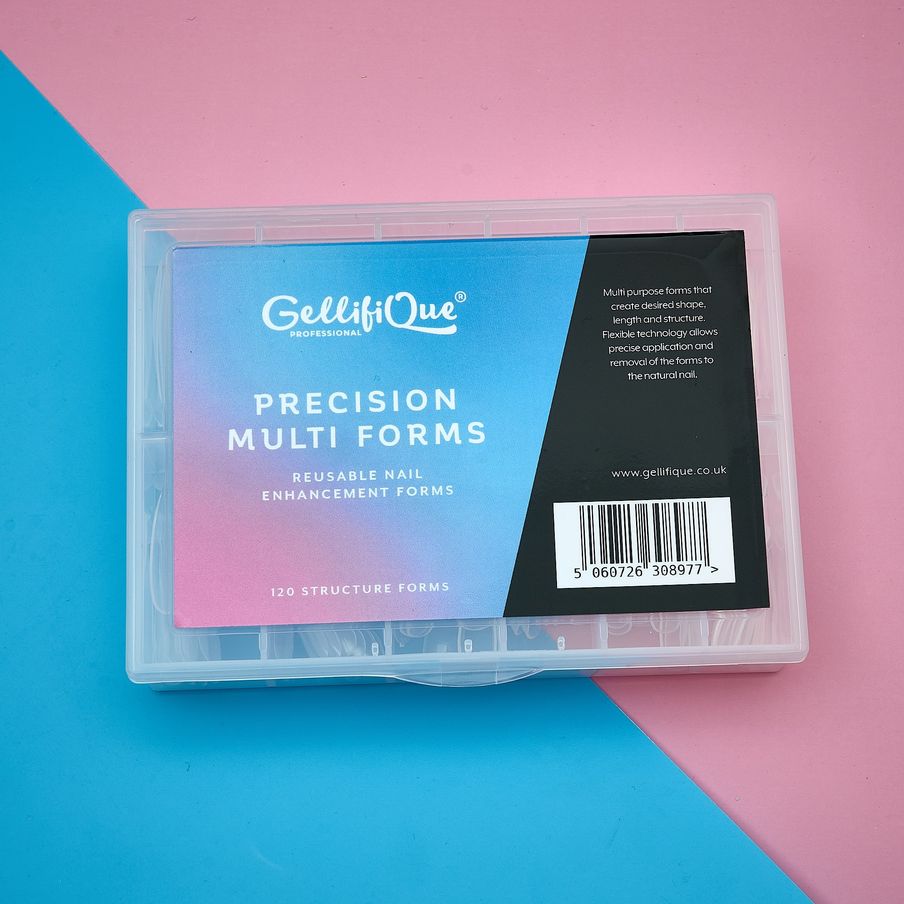  
STRUCTURE FORMS 120
Structure Forms
Pack of 120
Reusable Sculpting Forms for Acrylic Gel
Size 0-11
PRODUCT DESCRIPTION 
The Gellifique® Precision Structure Forms is your ideal partner for Acrylic Gel sculpting. This is a must-have item for sculpting without tips for nail biters. Create the desired shape, length and structure professionally and quickly without having to cut forms to fit around a complex free edge of the natural nail.
PRODUCT FEATURES
High-quality polypropylene material
Reusable
The size/length markings on the inner side of the tip
Resistant to a variety of organic solvents
The protrusions on each side enables easy removal of the form from the nail
APPLICATION INSTRUCTIONS
Sanitize your own and your client's hands
Ensure the client's nails are completely free from polish or gel
Perform a dry manicure removing any non-living tissue with cuticle nippers
Gently remove any shine from the natural nail using 180 / 240 grit file 
Cleanse the nail with an Isopropyl Alcohol solution 
Apply Gellifique Acid-Free Primer
Apply Microcrystal Base Coat and cure for 30 sec with Gellifique Pro-Cure 48 W lamp
Professional Tip
Pay great attention to prep around the cuticle area as most product lifting can occur in this area if insufficiently prepped, with this type of enhancement 
APPLYING THE FORM
Choose the correct size by placing the form to the free edge of the nail
The form must cover lateral nail folds
There should be a gap between the form and the nail bed as this is where the product will be placed
Professional Tip
You can adjust the fit of the form around the cuticle by buffing it with a nail file for a snug fit, following the natural curve of the cuticle area on your client
CREATE YOUR ENHANCEMENT 
Using the markings on the inside of the form apply a bead of Gellifique Acrylic Gel using the Gellifique Dual-Ended Acrylic Gel Brush
Sculpt the material using the brush dipped in Isopropyl Alcohol solution
Keep the sidewalls and cuticle area thin, with the majority of the product in the middle of the form to create the apex
Place the filled form on the nail at a 45-degree angle, remove any excess product with a brush or Gellifique Fix It Silicone Wand
Ensure there are no air pockets 
Flash cure with Gellifique Pro Cure Mini for a few seconds 
Remove your hand and turn it upside to shape the sculpted free edge in order to avoid extra filling and shaping after the cure
Place your hand into the Gellifique Pro-Cure 48 W and cure for 15 sec.
Tightly holding the form next to the cuticle area remove the form
Now place your hand into the lamp and cure for 60 sec.
REFINE
Remove inhibition layer by cleansing with Isopropyl Alcohol 
Refine shape around the cuticle area
Cleanse as above to remove any dust 
GEL COLOUR or TOP COAT
If applying gel polish colour there is no need to apply a Microcrystal Base Coat
Apply gel polish colour as normal
Apply Microcrystal Top Coat and cure for 30 sec with Gellifique Pro-Cure 48 W
PRODUCT MAINTENANCE
Cleanse the forms with Isopropyl Alcohol after each use
Place in a ventilated area to dry
Avoid exposing the forms to sunshine for long periods of time