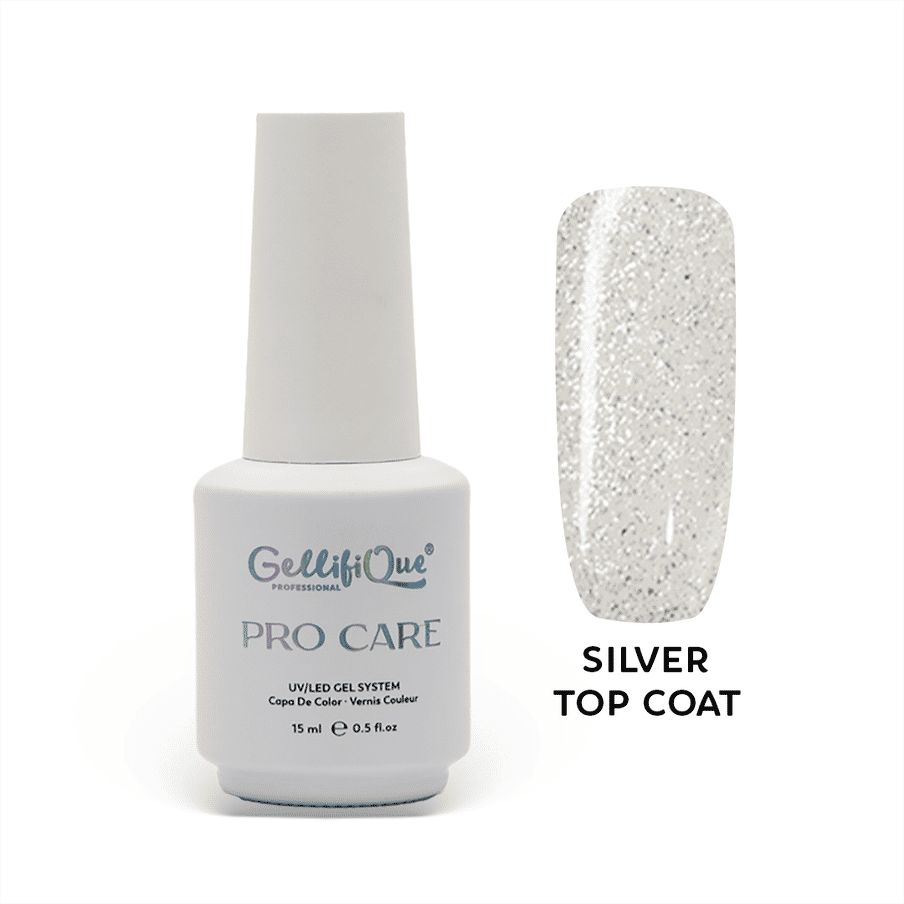  
SILVER TOP COAT
Tack free UV/LED Top Coat
2 - 3 weeks of wear
Volume 15 g
For professional use only
Vegan-friendly and cruelty-free 
Made in UK
HEMA and Di - HEMA Free
A tack free top coat, with our premium, super fine silver glitter particles. 
FEATURES
Low acid formula - 100% HEMA monomer free
Low exothermic reaction for a comfortable cure on sensitive nails
Cure 90 sec in the Gellifique Pro Cure Lamp
Elastic and flexible to prevents chips and cracks
Odour - free
Crystal clear and none yellowing
Gellifique® Pro Care Range
The latest line of products from the Gellifique® core UV/LED line. Pro Care line is formulated in Holland and made in the UK to deliver outstanding results in an innovative formula with low levels of total acrylic acid content. This formula may make the product more suitable for people with intolerances*.
⚠ Please always use the complete Gellifique® system. Download your application guide here.
⚠ Always avoid skin contact
☆ Made in the UK
*Please always check the product label or the ingredient list prior to product purchase / use. 
Ingredients:Aliphatic Difunctional Urethane Acrylate, Urethane Acrylate, Pentaerythrityl Tetramercaptopropionate,PEG-3 Trimethylolpropane Triacrylate, Benzoyl Isopropanol, Ethyl Trimethylbenzoyl Phenylphosphinate, Siliconpolyetheracrylat, CI60725, CI77510, p-Hydroxyanisole