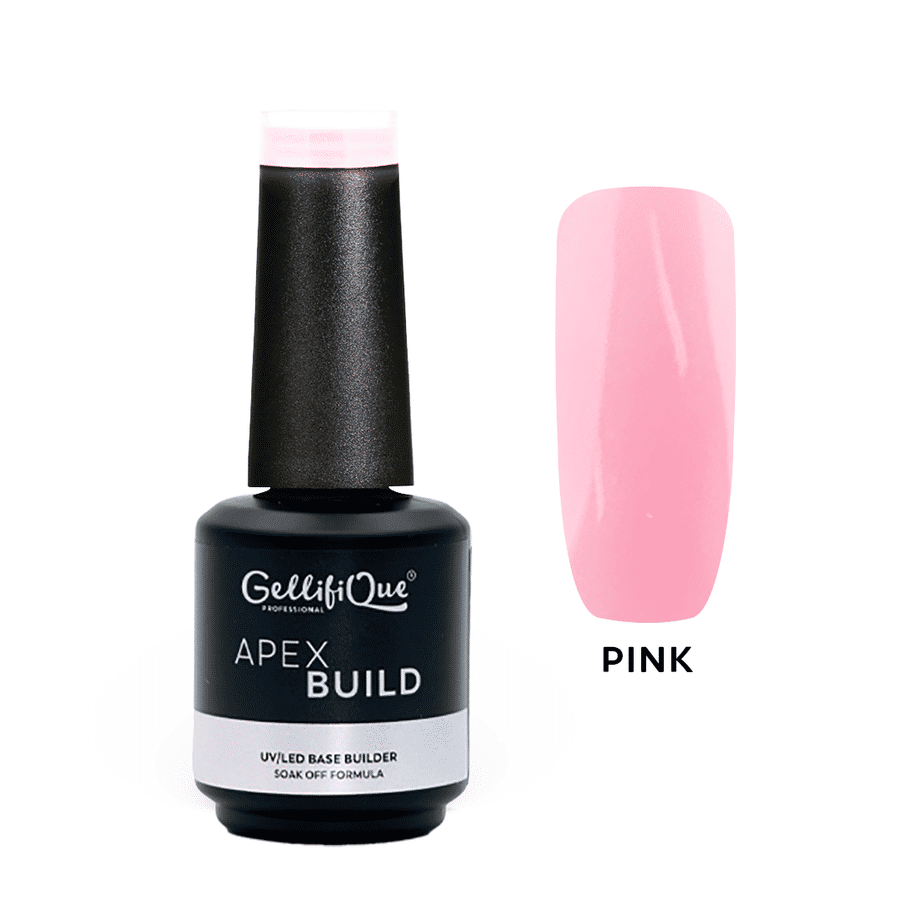  
HARD BASE - PINK (HEMA FREE)
Soak Off UV/LED Builder Gel in a Bottle
Sculpting and short extensions
Self levelling properties 5 out of 5
Strong structure properties 3 out of 5
Cure time 60 seconds
For professional use only
15 gr 
PRODUCT DESCRIPTION
Apex Build is the ultimate, multifunctional base and build product designed with cutting-edge technologies to elevate your nail game and to be used alongside the Smart Base range. Experience a long lasting wear of up to 28 days and fantastic colour intensity. 
The first opulent TRIO collection features the exquisite: Terry, Silk and Georgette with even more colours to be unveiled in the coming months.
This truly transformational product will become your absolute go - to as the nail industry shifts towards that elegant, natural nail look.
We have been working on the production of this product for almost a year to tailor make its finish, texture and colour opacity. You are guaranteed to fall in love with the application, results and its longevity. 
FEATURES
High adhesion for use up to 28 days
Durable structure that strengthens brittle and cracked nails. Extend up to 2 mm
Incredible texture that is completely different to the traditional gummy/gooey BIAB 
Custom created colours by Gellifique® that compliment the Smart Base range and have a full coverage finish
Self levelling formula
Soak off in 10 minutes or infill
100% HEMA monomer free formula. This means the Apex Build product line can be used alongside our Pro Care range. These formulas are complimenting but different in composition, so please do check the ingredient list when working with customers with specific intolerances.
Made in the UK with carefully selected ingredients imported from Germany, Apex Build embodies the highest quality standards in the industry
HOW TO APPLY
Full manicure and cuticle prep
Apply Bonder / Dehydrator
Apply an Acid Free Primer on natural nails only (do not apply Primer on left over product if this is a re-balance)
Wait about 20 seconds for the primer to air dry
Apply a scrub layer of the product itself or any of our base coats if the nail plate requires additional adhesion
For your scrub layer decant a little bit of the product and taking a gel brush for sculpting, create a "scrub layer" of the product by working a small amount of the product in a "rubbing in motion" all over the nail plate
Cure for 30 seconds
Apply your slip layer
Apply a bead of gel and create your natural nail overlay
Cure 60 seconds
Apply Top Coat and cure for additional 60 seconds
⚠ Please always use the complete Gellifique® system
⚠ Always avoid skin contact. 
☆ Made in the UK
*Please always check the product label or the ingredient list prior to product purchase/use. 
Ingredients: BIS-HEA POLY(1,4-BUTANEDIOL)- 9/IPDI COPOLYMER, HYDROXYPROPYL METHACRYLATE, ISOBORNYL METHACRYLATE, METHACRYLOYLETHYL PHOSPHATE, ETHYL TRIMETHYLBENZOYL PHENYLPHOSPHINATE, BIS-HEMA POLYNEOPENTYL GLYCOL ADIPATE/IPDI COPOLYMER, TRIMETHYLOLPROPANE TRIMETHACRYLATE, SILICA, BHT , BIS(T-BUTYL BENZOXAZOLYL) THIOPHENE +/- PIGMENTS